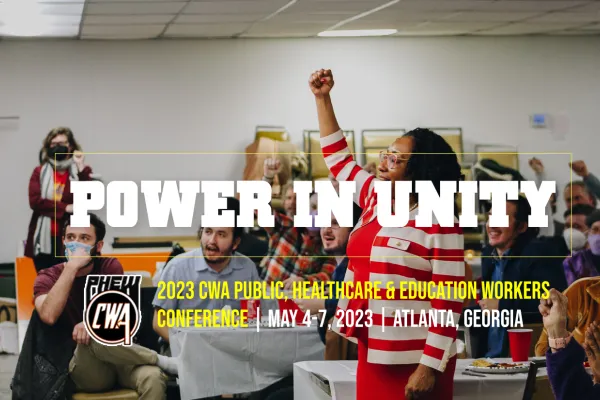 Our Conference will be bringing together over 100 leaders and activists from the Public, Healthcare and Education Workers sector, which is now more than 140,000 members strong. We are offering a variety of workshops that will help develop skills, share experiences and struggles, and build unity across our critical sector. Please take a moment and register for workshops now. Many of our trainings build on one another, so we are asking you to the best of your ability to commit ahead of time. Everyone who registers before the Conference will receive our sector shirt for free. 
In our plenary sessions, you will be hearing from most of CWA's international leaders, and reports from frontline struggles in public sector organizing. 
Arriving and getting there 
The PHEW Conference is entirely at Westin Peachtree Plaza, 210 Peachtree St NW, Atlanta, GA 30303. There are several ways to make your way to the hotel. 
If you're flying… You will be arriving at Atlanta Hartsfield-Jackson Airport. This is a very large, very hectic airport so be prepared for it to take you a moment to work through the airport - including taking its internal tram system. From the airport, you may… 
… take public transit - From Hartsfield-Jackson, you can take MARTA, the Atlanta subway-metro system. The hotel is just 1 block from the Peachtree Center station, which is serviced by both the Red and Gold lines, both of which depart from the Domestic Terminal at the airport. The ride takes about 20 minutes; costs vary depending on time but are very affordable. 
… rent a car - If you are renting a car, follow the signs at the airport to the car rental vendor. Please note that Atlanta has notoriously dense traffic, so unless you're planning on exploring the city, we recommend against this (see Parking information below). 
… take a cab or ride share - These are readily available at the Domestic Terminal pickup stand. Costs vary depending on service, time of day, and vehicle size. Ride shares and taxis drop-off and pick-up is at a side entrance to the building clearly marked by a sign; if you are arriving, proceed to the marked entrance and push the buzzer to be let in. Or, just walk around the corner to the main entrance. 
If you're driving … There are two parking options at the Hotel, and they ain't cheap. Hotel valet parking is $55/day, but you are able to take your car out and repark as much as you like. There is another garage immediately next to the hotel that is $35 for overnight parking, but you cannot exit and enter the garage freely; you will have to pay each time you park. 
Hotel and Conference location information 
The Westin Peachtree Plaza is one of Atlanta's tallest and most iconic buildings - in the shape of a giant cylinder. It's unmissable on the skyline. You can read all about the hotel and its amenities here. It has several restaurant options, including an extremely swanky rooftop restaurant with beautiful views of all of Atlanta; not recommended for people with vertigo! It also has a gym, coffee shop, office center, and plenty of available work space. 
It is located in Downtown Atlanta, immediately next to Olympic Centennial Park, the Georgia Aquarium, CNN headquarters, and nearby a number of dining and entertainment venues, and important historical sites. Notably it is about a 5-minute ride away from the Martin Luther King, Jr. National Historical Site. 
Just across the street from the hotel is The Hub at Peachtree Center, a large dining and shopping complex especially convenient for lunches, offering many options to suit all tastes. 
Atlanta has a huge offering of attractions for those of you arriving early, departing late, or seeking evening entertainment.
What to expect at the Conference
Checking in… A Registration & Welcome table will be available near hotel check-in from 2:30-6:30pm on Thursday, May 4. The table will be relocated to our Conference level, on the 9th floor, from 8:30am-12:30pm on Friday, May 5. 
Program & agenda … A final agenda will be available upon arrival, but a draft form is available here. As noted above, please register for workshop tracks beforehand at this form. All pre-registrations will receive the free t-shirt! 
COVID protocols …. Yes, there is still COVID! However, due to the good rate of vaccinations, masking will be optional throughout the Conference. If you are feeling sick or showing signs of any COVID symptoms, please isolate, test and inform Conference organizers. 
Meals and hospitality… Morning coffee and tea, as well as light refreshments will be available in the AM on Friday 5/5 and Saturday 5/6. There will be all-day coffee and beverage service, as well as snack breaks. Lunch will be on your own; the Hub across the street from the hotel is a good, fast, affordable food hall that has many lunch options for you. There will be a banquet buffet meal on Saturday evening. Additionally there will be two Happy Hours thanks to sponsorship by District 1 Locals, and the United Campus Workers Locals.