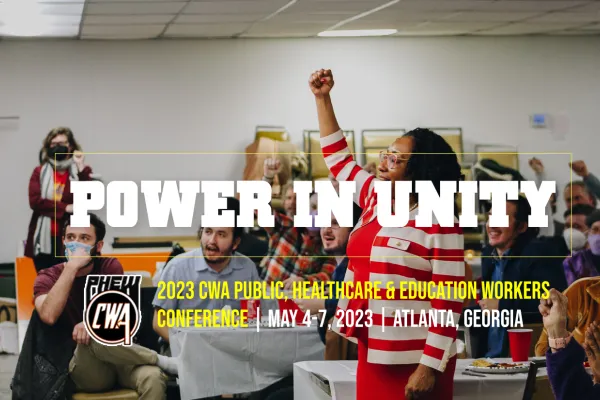 Registration is now live for Power in Unity: the 2023 PHEW Conference. You can register by clicking here. The Conference is planned for May 4-7 in Atlanta (more info on hotel below).
Members of CWA's PHEW sector work in dozens of states, with hundreds of different employers, which can sometimes make it hard to figure out how we stand together. But in the many conversations I've had with leaders and activists like you across our union, I see the opportunity for us to learn from one another and train-up together to strengthen our Locals and our movement.
What can members expect? 
Most importantly, there will be plenty of fellowship and connection with members across our sector. And we'll offer plenty of training, including:
 
Bargaining and mobilization
Public pension fights
Legislative mobilization and lobbying
Strengthening our electoral game and PAF
Aptify support
Organizing
...and more that's in the works! Watch this space!
We'll also be hearing from CWA leaders and 🤞some inspiring leaders we don't want to jinx by naming just yet.
Where and when is the Conference?
Conference registration will open the afternoon of Thursday, May 4, with main programming on Friday, May 5 and Saturday, May 6. Departures are on Sunday, May 7. The Conference will be at the Westin Peachtree Plaza; you can go ahead and grab your room at the discounted Conference rate by clicking here. **Please note that we had a very limited number of rooms available on May 3 for lead staff; we are working with the hotel to open a new block on that date but currently our discount rates are live for May 4-7, the scheduled Conference dates.**